Hits: 6745
Instruction for Ordering Desk Nameplate
Customizing and Ordering Your Military Desk Nameplate
Desk nameplates are a perfect representation of one's identity in the military, government, and private organization. Whether you're a personnel or an officer or a chief, you deserve pride and honor with your name and title on your desk in any of your workplace!
Military Plaques offers highest quality handcrafted desk nameplates that can enhance your office or unit.
Here's how to order a desk nameplate:
Go to the gallery and choose the desk nameplate you like and click product details.
Put the name and title inscription.
Upload the images of your design (for your top design, left and right logo or emblem).
Put your base inscription (text or quote or motto)
Indicate the Font style (e.g. Old English)
Indicate the Font color.
Indicate the Background Color (for the desk nameplate and for the name)
Use the extra instruction box for your additional specifications.
Choose your shipping options.
Add to cart
Go to Cart and proceed to checkout.
We will hand-engrave your desk nameplate based on your specifications. We ship anywhere in the US with no shipping fees.
If you can't find the design you want from our collection of desk nameplates, you can customize your desk nameplates now and here's how!
Here's an illustration of guide you can use to customize your own desk nameplates: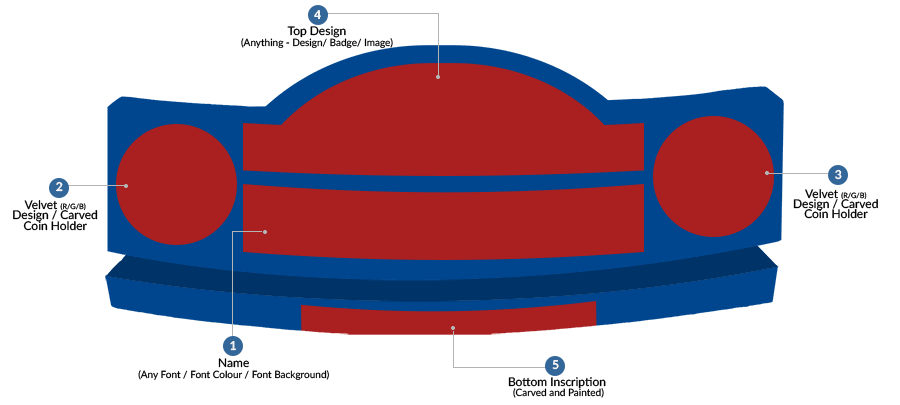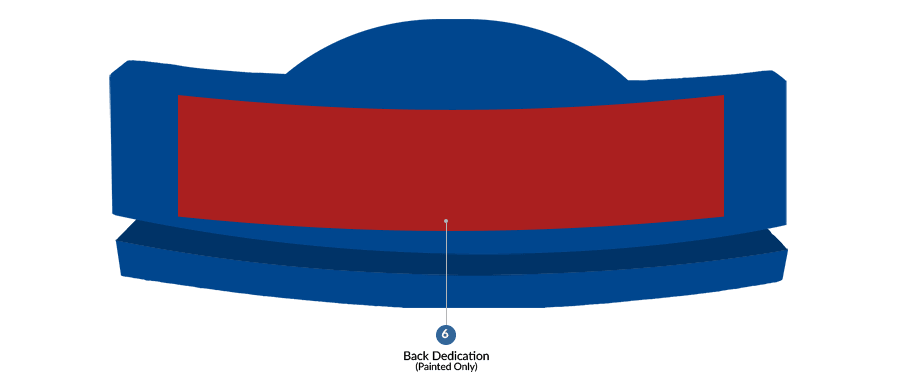 In customizing a desk nameplate, a unique top design is always perfect. You can put any design you want whether it is your favorite aircraft or anything that signifies you as a person or your service. You can also choose the font color and font style of your name and title at the bottom of the top design. You can choose two carved logos or emblems, two velvet pin cushions (red, blue, or green), or one of each on each side of the desk nameplate. If you're giving the desk nameplate to a friend in the military, government, or corporate, you can add a quote or text that you want for a touchy impact.
Our desk nameplates are delicately hand engraved and hand painted and finished so we can make a desk nameplate exactly the way you want it to be. We only use the finest mahogany that is kiln-dried to our desk nameplates, so these can last for years without twisting and warping. These desk nameplates are ideal for gifts and displays.
Any custom-design, color, and shape of desk nameplates are free of charge! There's no minimum order quantity and no US shipping fee.
So, customize your desk nameplates and order now!
Order now from our wide selection of highest quality and unique customized wooden desk nameplates that you can have in a lifetime without changing! You can click the button below to see more samples.